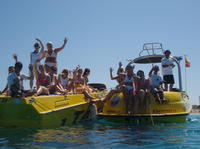 Ibiza Yacht or Speedboat Experience
Boat Rental
Price $569.72
Charter a yacht or speedboat to spice up your Ibiza vacation! Sit back and relax as an expert captain takes you on a half-day or full-day spin on the waves. While it's known as one of the world's party capitals, Ibiza is also a great place for water sports activities and boasts a beautiful coastline. Admire the island scenery and soak up the sun on your private deck deck, and experience high-speed thrills with optional activities such as snorkeling, Jet Skiing, parasailing or Flyboarding. Choose the type of boat that best suits your interests.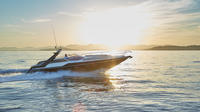 Ibiza Private Speedboat with Personal Skipper and Drinks
Boat Rental
Price $1,096.15
Cruise through Ibiza on this full-day private speedboat tour with personal skipper and drinks. The Tomahawk 37, one of Ibiza's most popular charters, features an open cabin with its own bathroom, a below-deck restroom, and front and rear sun-beds for soaking up Ibiza's rays. Spend a full day in your stylish boat, discovering Ibiza's stunning beaches, such as Cala Saona and the Punta Rasa caves at Formentera. Enjoy complimentary snacks and refreshments while your skipper advises you about the best spots.