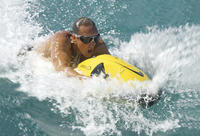 Ibiza Seabob Rental
Other Water Sports
Price $484.26
Zip through the water like a fish with a state-of-the-art Seabob, a truly unique aquatic experience. This 8-hour Seabob rental in Ibiza includes a full safety briefing from an instructor. Master your controls and then dive below the waves, holding tight as you twist and turn through the water at your desired speed, propelled by your powerful Seabob. This high-demand Ibiza activity is a once-in-a-lifetime thrill!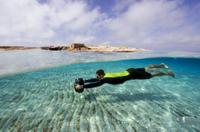 Ibiza BladeFish Sea Scooter Rental
Other Water Sports
Price $125.34
Explore the warm seas off the coast of Ibiza with this 8-hour BladeFish sea scooter rental. Learn how to use this amazing self-propelling device during a safety briefing, then dive below the waves for independent underwater exploration. Simply twist your hand-held propeller in the direction you want to go to discover colorful marine life in Ibiza's clear, shallow waters. Safe and fun for the whole family, BladeFish sea scooters are the perfect toys to keep kids of all ages entertained.